HTD will participate in OFC 2023 please pay attention
Author :admin
Release time :2023-03-03
Clicks :
---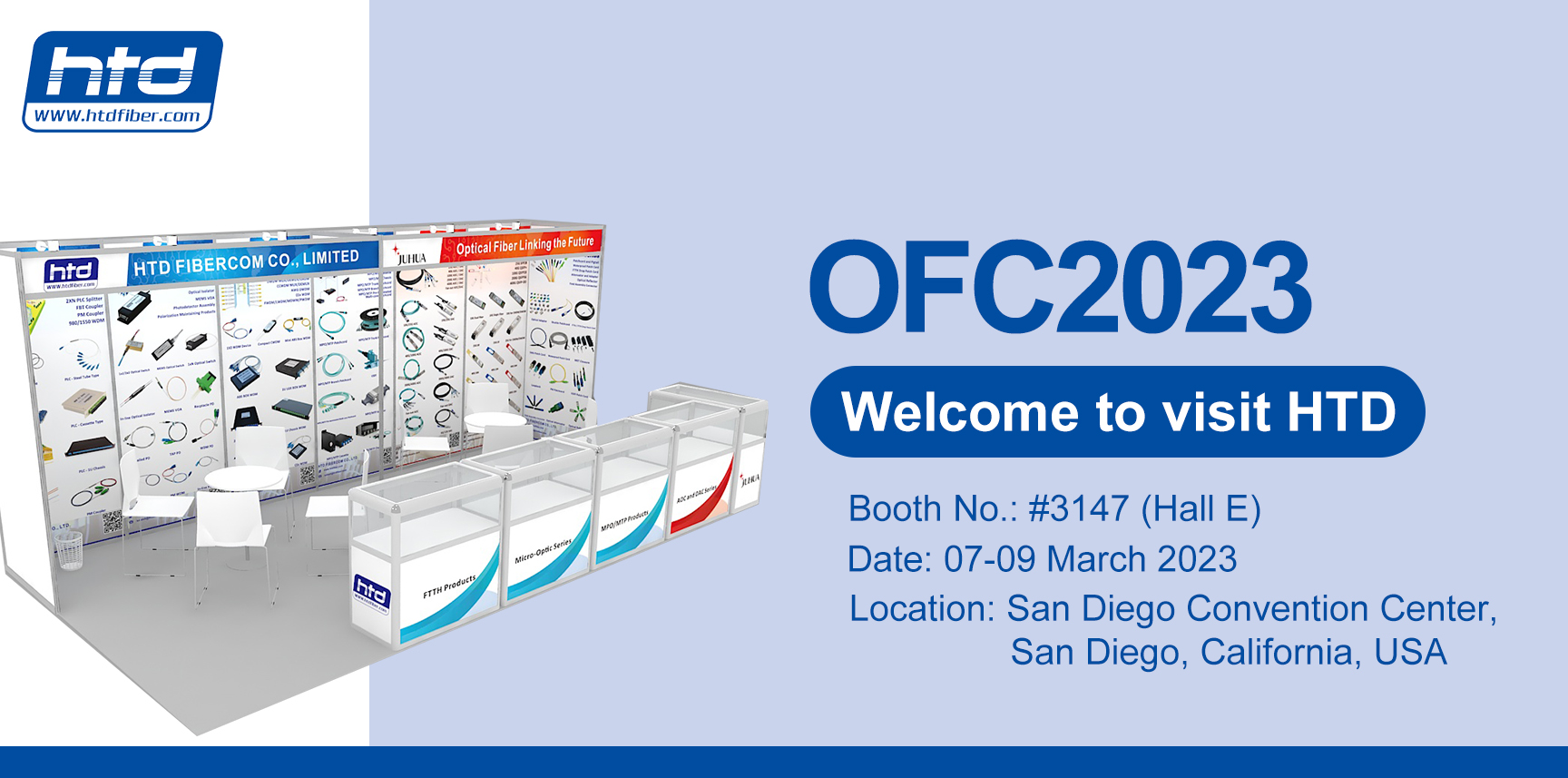 On March 7-9th, 2023, the 45th American Optical Fiber Communication Expo and Symposium (OFC for short) will be held in San Diego, USA. At that time, HTD Fibercom Co., Limited will bring a variety of passive devices and optical fiber products used in the backbone network, access network, data center (CPO), FTTX and other fields to the show. Our company's senior technical experts and senior account managers will be present and provide technical and product consulting services, booth number: 3147 Hall E, sincerely invite all friends to visit and communicate with us.
The main highlights of HTD's exhibits at OFC 2023 are as follows:
Passive products: 40ch ultra-bandwidth DWDM AWG modules for backbone networks, 200G&400G optical module network components, parallel optical components, MPO high-density integrated connector products, 1*5 &1*9 PLC non-uniform optical splitters for FTTR Router chips and device products and next-generation broadband network NGPON passive module products;
Active products: CWDM\LWDM\MWDM\DWDM and other optical transceiver modules for data centers, 10G-400G DAC/AOC high-speed cable assemblies and other products.
About us
HTD Fibercom Co., Ltd., established in March 2005, is a national high-tech enterprise integrating R&D, manufacturing, export and sales, specializing in the production and manufacture of optical passive devices. The company's existing product covers wavelength division multiplexers, splitters, couplers, optical switches, PD detectors, optical circulators, isolators, patch cords, etc. Mainly used in optical fiber communication equipment, fiber-to-the-home (FTTH), optical fiber network transformation, broadcasting/telecom/broadband triple play system, optical passive network system (PON), next-generation broadband network (NGB), optical fiber sensing and IoT networking and other fields.
Since its establishment, the company has been adhering to the modern enterprise management mode, always adhering to the ISO9001 quality management system, striving to establish a service system with the brand of HTD, and taking product innovation and quality assurance as the foundation of development, and customer Service and internal management as the guarantee of progress, strictly follow the principle of 'integrity, quality, innovation, and progress', strive to advocate the style of 'unity, pragmatism, and efficiency', and adhere to the principle of 'treating each other with sincerity, based on trust, mutual benefit, mutual benefit, With the enterprise spirit of seeking common development, we are willing to go hand in hand with friends from all walks of life with our sincerity and hard work. At the same time, we look forward to the joining of excellent agents and distributors at home and abroad to create a better blueprint together.